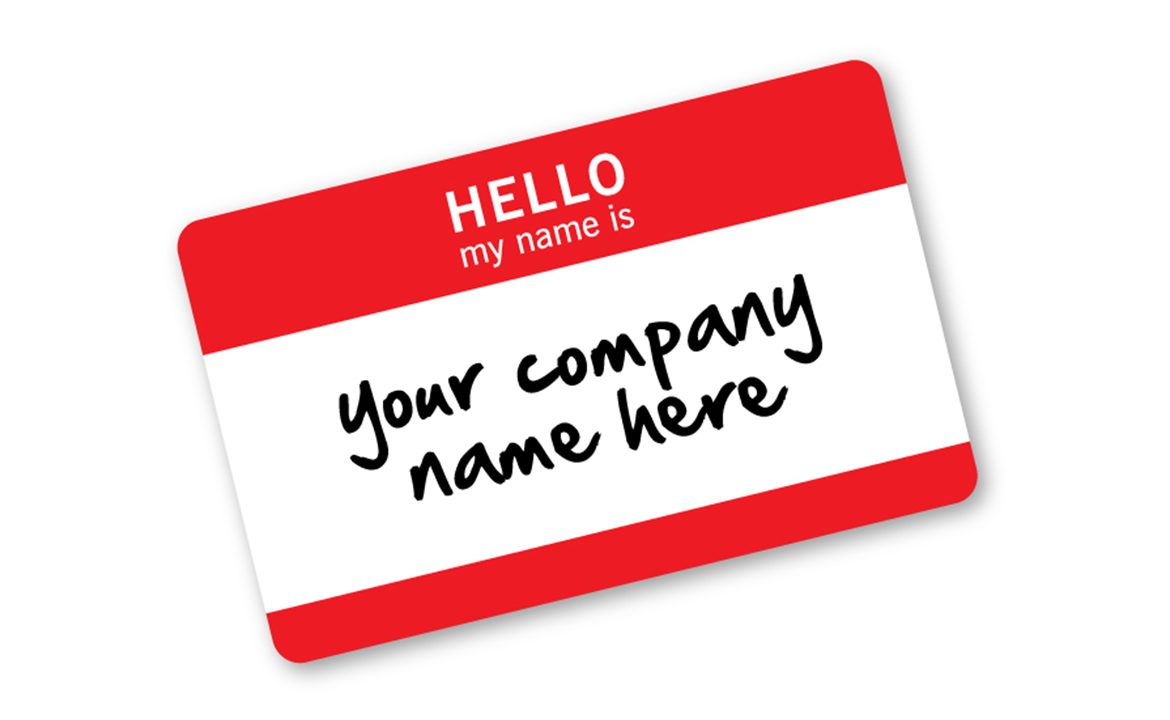 Choosing your company business name is like building the foundation for your home. The walls and roof are only as strong as the foundation they reside on. In other words, if your foundation is cracked or poorly built, it will affect the performance and longevity of the home.
Similarly, think of your company business name as the foundation for your new business. Your company business name will be the front and center of your brand; it will drive your customers' first impression on who you are, what you do, and what products or services you sell.
Also, consider the cost of rebranding later if you rush the process in choosing your new business name. It's important to validate your business name, gauge its relevancy, consider its growth potential and measure its effectiveness with prospective customers.
Understanding your business plan before confirming your name
In prior articles, we reviewed the importance of a company business plan. If you haven't set up your business plan, I suggest reading,"6 Things to consider before spending money on a new business idea" before investing in your new business.
The core message was "measure three times and cut once", therefore increasing your chances for success by planning and validating.
In other words, don't put the horse in front of the cart. It's important to understand and validate your business ideas before choosing your name. Once your ideas and business plan have been validated by non-biased 3rd party customers, it's easier to get a feel for what your company does and who your company serves.
What industry and customers does your new business serve?
Let's consider successful companies like Google, Kijiji, Nike and others.
It's easy to feel like your company name should be something unique and different from anything customers have seen before. Though this is not a bad idea, it's also an idea that could end up costing thousands or millions of dollars to educate your market.
Therefore, consider using a name that drives excitement but remains relevant to your industry.
If your industry is automotive, then consider having a distinction in your name that speaks to automotive or shows a certain level of relevancy. A name like "Amazing Wheels" could represent many different types of automotive businesses and be a great play on words. However, if your company sells car parts, and your name is "Amazing Wheels," the name could be misleading towards your companies' actual products and services. This may confuse your customers which is the opposite of what we're trying to do here. Instead, we could try a name like "Car Parts World" in this scenario – this would speak to the variety of parts and the industry that the business is in.
Need help searching for creative name ideas? Consider using business name generator tools while keeping track of your companies' purpose. Below are three great examples you can use to generate some company names:
You've now got some company names to share with family, friends and customers
It's time to share these with friends, family and non-biased 3rd party customers. If possible, have a list of 5-10 different names without identifying which ones you prefer. The goal is not to force people in choosing the ones you want but rather to see which ones they prefer based on their understanding of what your company does. Try asking the following questions:
Why did they choose those company names?
What made them like those company names?
Another great technique is to have them rank their favourites in order from most liked to least liked.
Once you've received this feedback from a few sources, you'll have more data you can use to decide on which name will best fit your new business. It's also possible that you'll need to start the process over and come up with a new list of company names. However, keep in mind, it's best to do this right now then spent thousands of dollars later re-branding and educating customers.
What geographic areas will your new business serve?
The goal is to choose a business name that is relevant to the area your company serves. It's common for new business owners to include words like their city, province or state, or country in their name. In essence, geographic identifiers are a great business practice to tell customers which markets your company services explicitly. Overall, it creates a sense of reassurance with customers that your products and services are available in their area. However, it's important to consider your overall business growth potential. Therefore, review your business plan and answer the following question: are your new business products and services local, national or global?
For "Joe's Repair shop," it would be sound to use "Joe's Repair Shop + City", providing customers with a clear understanding of which markets "Joe's Repair Shop" provide services.
However, if your business is more of an online e-Commerce storefront, and your audience can be anyone, nationally or globally, then it's a good idea not to include a geographic area within your name. The last thing you want to do is add Canada, when you also serve US, UK and other countries.
For more information, you can review an article by Entrepreneur.com, which does a great job highlighting the basics for creating a business name.
Don't choose your business name without considering these four key elements
Number 1 – Legal aspects and is the name already used?
It's wise to choose a company name that is unique and not used in your industry. In other words, don't copy someone else's name. Instead come up with something similar but original. As a business owner, the last thing you want to do is pay thousands of dollars setting up your logo, branding, domains and website content without validating your ability to use the company name. If someone else in your industry is already using this company name, it's possible you'll get a cease of use letter forcing your new company to take it down. However, depending on the size of the business, this may not happen. IN any case, it's still a good practice to think ahead and own a company name you can truly call yours.
If you find yourself in a position where your heart is set on a particular company name already in use, owners can draft a letter to whoever else might be using the company name and request permission of use.
All-in-all, for anything related to legal advice or consulting, you should contact a lawyer for help.
Number 2 – Is the domain name (URL) available?
A common mistake made by new entrepreneurs when choosing a company name is spending money on logos and branding to realize the name isn't available on the web. Therefore, if your business will require a website and online digital presence, it's important you make sure the domain name is available.
What is a domain name?
A domain name is a name for your website on the internet. In other words, it's your digital street address used to guide customers to your webpage. For more information on what is a domain, you can review the following article by website.com.
Checking if your business name is available via a web browser search
It's good practice to do a little research on a company name before claiming it as your own. The easiest way to see if a domain is already available is by searching your internet browser. If the website is coming up, then this most likely means someone else is already using the company name. However, this doesn't mean it might not be available on a different domain name extension. The most common domain name extension is ".COM", however, this doesn't mean your website wouldn't be able to operate on a ".org " or ".net." In essence, thousands of different domain extension are available to business owners. If you're unfamiliar with which one best suits your business, then we recommend reviewing this article by Domain.com that shows the most common domain name extensions and the most common industry they represent.
What tools are available to help me check if a domain name is available?
Another great tool that can is the GoDaddy domain search. For instance, try putting your company name into the GoDaddy domain search bar, and GoDaddy will display a list of potential domains that are available for your company name. Additionally, the search will display various options using various domain name extensions automatically for you.
The domain name seems unused, but I can't buy it, why?
When performing your research, it's possible a domain name might look unused but shown as unavailable. That often is the case when domains are for sale by the domain owner. Therefore, it's best practice to enlist services from GoDaddy.com, namecheap.com, domain.com or any other domain name company who offer services to locate the seller and arrange a purchase. However, be warned, doing this will come at a cost.
Number 3 – Is the social media name and business page available
Great, you're one step closer to having your business name!
Next, it's time to make sure the social pages for your company name are available. Go to the major social media outlets like Facebook, Instagram, Twitter, LinkedIn, YouTube and start reserving your business name under these channels by creating a business page.
Number 4 – How easy is it for Alexa, Siri and Google Assistant to understand your company name
The use of mobile devices is only increasing. Customers rely more and more on their mobile devices to research when making buying decisions. Consider the following impact voice assistance apps have on customer engagement.
Note the following stats by a variety of credible online sources:
46% of people use voice search to find a local business daily, according to SeoExpertBrad.
50% of all searches will be voice searches by 2020, according to ComScore.
30% of searches will be done without a screen by 2020, according to MediaPos.
In essence, company names that are hard to pronounce could result in lower mobile engagement with prospective customers.
Try testing your new business name and making sure the top three voice search engines clearly understand what you are saying and can translate your company name into a search query.
Don't skip and choose your company business name right the first time
To conclude, there are different types, reasons and purposes for a company name. Therefore, make a plan, evaluate your company names effectiveness and relevancy towards your products, services, industry and serviceable geographic areas. In other words, choose a company name that speaks to your business plan. Lastly, don't cut corners when choosing your company name and regret your decision later.
Now that you have your new company name and hopefully your new company domain, it's now time to start building and bringing your new business ideas to life.
Finally, working with a company that understands business and digital transformation
QPSdigital is an experienced web development and web design company that works with all types of businesses from start-up to established companies. We not only understand the web programming world, but we also understand what it takes to grow a business. If you are looking for an experienced team, then connect with us for your free consultation at QPSdigital.
Ready to go? Then visit our free online questionnaire to get started. The questionnaire was designed to help us understand the basic elements of your digital project.
We look forward to connecting with you,
Christian Duguay
Sales Professional, Entrepreneur and Family Man