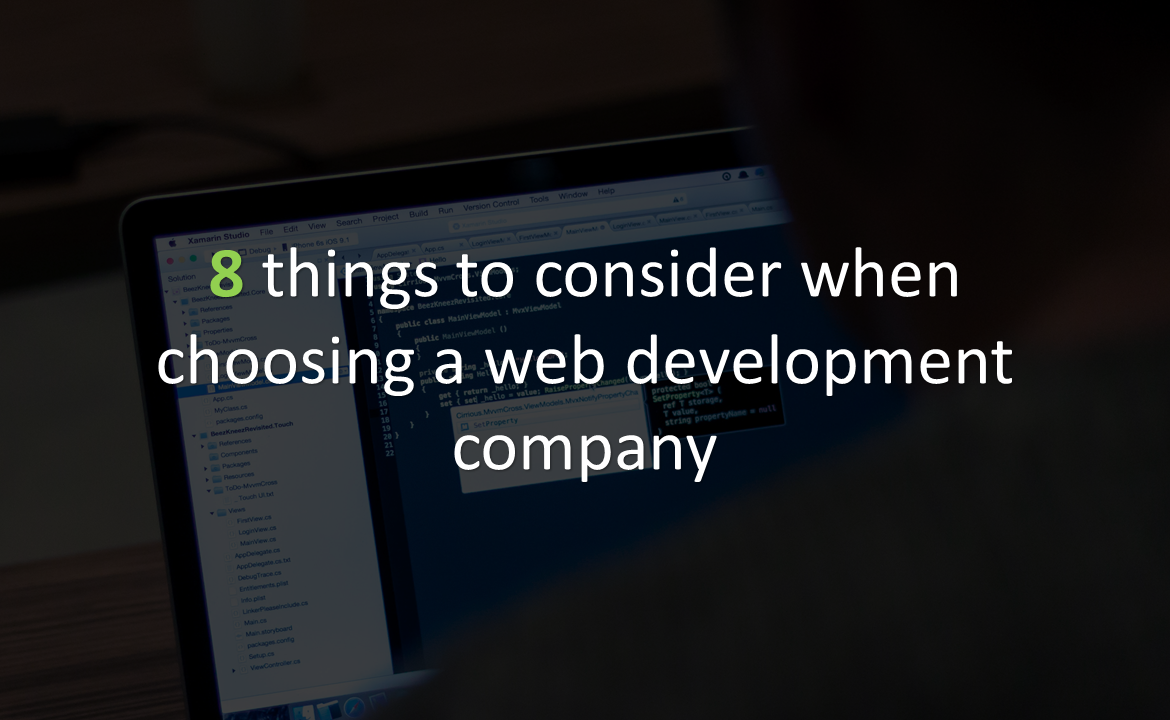 Choosing your web development company is like choosing your life partner, your next family pet, your next car or your next career. Once the decision to proceed is made, it's very hard to walk away. Keep in mind, it's not impossible, but the headache that follows makes the journey of starting a new online website a very unpleasant one.
When hiring a web development company for your new website, it's important you take the time in choosing the right team. Sometimes the right team might also not be the most expensive, or the least expensive.
In most cases, the web development team will gain access to all of your website's modules, including backend super administrative permissions. Think of it this way; it's like giving your web development team a key to your cottage home, with full permission to visit and enjoy the facilities anytime they choose.
If someone had access to my home, I'd make sure it's someone I liked and trusted.
The typical journey for any new website owner in choosing the right web development company
Ask any new website owner how the web development of their website went, and you'll most likely have them laughing or crying. Both expressions are the same; the typical answer will be "which version of my website are you referring to?"
Don't be alarmed; this is simply part of the entrepreneurial journey that most of us face. However, there are logical tips and tricks you can consider to avoid the most common mistakes made when choosing a web development company.
How to determine what type of website you'll need
It's difficult to determine your web development needs if you don't know how your business will attract customers and make money. Part of any successful new business or a new website is planning. It's important to have a completed business plan and, most importantly, to have a validated business idea. I'd recommend reading the following article "6 Things to consider before spending money on a new business idea."
First and foremost, for your web development company to have success, they will require as many details and information on what you're trying to achieve. In essence, if you limit how much information you share with them, then you are also limiting how much impact they can bring to your success. The more information you share with your web development company, the easier it will be for them to help map your journey.
There are different types of websites, more commonly known as templated websites and custom coded websites.
What is a website template?
In short, think of a website template as a cookie-cutter approach to building your website. Overall, it's a fantastic way to get your ideas on the web fast. However, the largest downfall is customization; once you start adding more custom features to your template, it's often less expensive to create a custom platform using a web development company. In other words, a website template is a premade webpage, or a set of standardized webpages that allow some level of manipulation with text, tables, images, videos and other visual elements to create a complete website. For additional references on what is a template website, have a look at this great article by Techopedia.
There are many examples of great template websites on the web, like Shopify, PageCloud, Wix, or WordPress. Keep in mind, templates can be a great starting point for any new website owner but are very limited. It's important to understand your branding guidelines and expectations for your business before choosing this route.
Our experience as a web development company
As an experienced web development company, we receive numerous monthly request from customers to help set up their template website. Basically, website templates are more of a "one size fits all" type of solution. In most cases they come equipped with tones of extra features your business doesn't need, and often these features can create a coding conflict when trying to add custom features and functionalities to the template. Often the cost can be as expensive to "fix" the website later than to engage a company to help build your website from the very beginning.
What is a custom website?
The largest factor that can help decide whether you should consider a template or custom website lies within your business plan. In other words, build with the end goal in mind.
Here are six things to consider when choosing a custom platform:
Created just for you, it's your website and your intellectual property.
The code is clean; in some cases, this can also dramatically increase your website load speeds focusing on the core principals of your website and not having any unnecessary coding.
The website can be customized for growth with your business journey in mind.
Little to no limitation, the sky is the limit on what can be done.
You'll have a personal and dedicated team with years of experience that can help guide you and avoid common pitfalls.
Enhanced SEO capabilities, if your website isn't ranking properly with Google, then it's going to make growing your website much more difficult
The cost of sharing limited information with your web development company
A common trend for new website owners is to be so excited about their new project but limiting how much information they are ready to share with the web development company. New website owners have the mindset that their new business idea is revolutionary and that by sharing it, they risk having someone steal it.
Your web development company is there to help you, plain and simple. By not sharing everything, you limit how much influence your web development company can have in helping create and guide your website journey.
It's better to have a web development company that challenges your ideas, than one who only cares of accepting the status quo and billing hours.
If you have concerns around the confidentially of your business idea, then I'd recommend drafting a proper Non-Disclosure Agreement (NDA) and having both parties sign it.
What is an NDA?
Thinking of an NDA as a secret a trusted friend once shared with you but sworn to secrecy. However, if you were to share the secret with others, your friend wouldn't have much of a leg to stand on from a legal standpoint. Well an NDA takes the concept of keeping secrets to the next level by contracting the agreement in words and adding some legal obligation to privacy. A great source for getting your NDA drafted is LawDepot which offers a free NDA document customized for your business in minutes. For any legal advice in regards to NDA, it's recommended you consult a legal lawyer.
Determining your technological compatibilities versus that of a proper web development company
As expressed before, when hiring a web development partner, you are hiring a business "technology" partner to your business. Ideally, the web development company will have years of experience building and helping businesses start and grow their websites.
It's important to ask yourself how much work and time you'll need to personally dedicate in setting up, customizing and learning the technology.
The trick is, be honest with yourself. If this is not your core business strength, then outsource to a technology partner and focus on what you do well. Trying to do everything just okay to save a little money can have major impacts on your business growth and go-to-market strategy.
Does your web development company have prior experiences in your industry?
Working with a web development company that understands your industry is crucial. If you hire a company that has never worked in medical, asking them to develop a medical app, rest assured, their web development will come solely from what you ask them to do. Meaning, your web development company will be limited on any creative thinking they could apply towards your industry.
At first, this might seem okay but having a web company understand your industry can save thousands of dollars and valuable time.
For example: At QPSdigital, we have extensive experience working within the automotive industry. We've development features for customers they didn't even know they needed or existed. If possible, it's important to have a technology partner that knows more about your technology requirements than you do. Imagine the impact this can have your business growth and success.
Who will own the intellectual property; you or your web development company?
Typically, when you're working on a custom platform, it's because you want your site to build and tailored for your business idea. Meaning, having the code shared with others and not owning the intellectual property is probably a bad idea.
Most importantly, don't take it for granted that the intellectual property is yours. Make sure to ask your web development company about intellectual property and to bind the arrangement in writing legally.
In this scenario, I'm not referring to patenting your idea but mostly referring to who owns the code once the project is completed. It's recommended you consult a legal lawyer for any advice around intellectual property.
Factor in all the costs of running a successful website
Web development companies have a variety of ways to charge for their services from hourly to fixed. Knowing which cost is best suited for your business is entirely up to you. From our experience, neither matters. What matters is the attention to detail placed by your web development company when planning and building out the project scope. If this process is rushed, it's a clear indication of how they might rush your website coding. This is a personal red flag.
Beyond the initial website design and website development, there's also ongoing cost and fees that need to be considered before starting.
Hosting your website on the internet
Website hosting is a service provided by many companies that allow business owners to post their website on the internet.
In most cases, your website development company will offer an additional monthly or yearly service to help you achieve this. There are hundreds of different ways to do host your website on the web. Most importantly, you need to consider the size of your website, the amount of traffic you'll have, and the ability to grow your hosting as your website grows.
There are really two common types of hosting, for one, using hosting companies like GoDaddy or Bluehost. These providers offer basic hosting packages which are excellent services for small websites and more commonly used by website templates. Often, business owners will opt-in to a more tailored approach when hosting their custom website solution with Amazon Web Services or Rackspace.
Discuss your options with your web development company and pick a solution that meets your business growth initiatives.
On-going website support
Once your website is live, it's normal for things to come up like changes to design, bugs and fixes. The initial website launch should match your previously established statement of work. However, as you grow, it's normal for things to come up. Some web development companies include a certain level of support as part of their hosting plans, while others will charge an hourly rate for any changes. That said, without having a full understanding of what type of revisions a customer might require, it's hard for web development companies to identify the best on-going website support solution. Typically, going with a quote charged hourly is the safest bet.
That said, some development companies offer even more services to clients removing the digital management of technology. If you require help with more features, then discuss it with your web development company ahead of time and make sure those services are available up front.
Additional charges that might come up
Without being too specific, some common expenses can occur as you grow your website. Here's a list of more common items that might come up:
Email setup
SSL certificate
VoIP phone number (1.800)
Lead generation with Facebook, Google Ads or other services
Blog and content creation
SEO initial and ongoing strategy
3rd party cost for API integrations
To conclude, choose a web development company that understands your business
Most importantly, your web development team should have an ethical standard and believe in your business ideas. Otherwise, you're just another project and might never reach the full potential you deserve.
At QPSdigital, we understand businesses and strive to provide clients with the best service possible by challenging our customer's ideas and being involved in the creative process from start to finish.
Connect with us today for your free consultation at www.qpsdigital.com or complete our online questionnaire.
We look forward to connecting with you,
Christian Duguay – Owner at QPSdigital
Sales Professional, Entrepreneur and Family Man