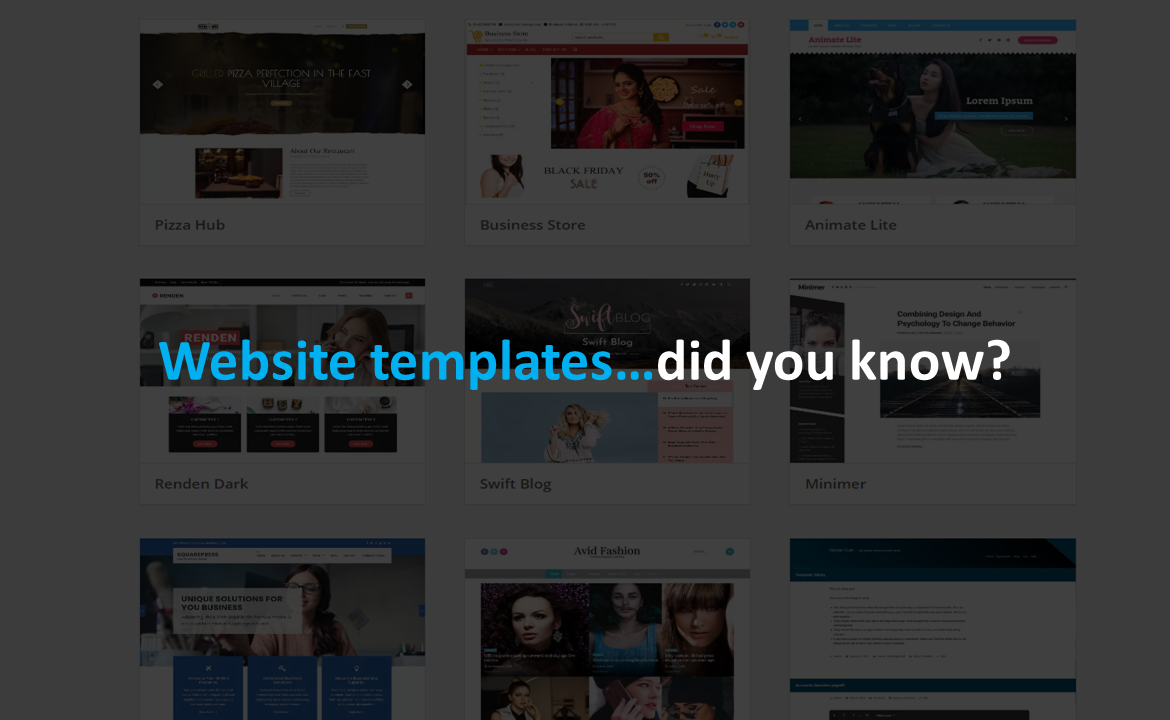 Think of website templates or custom websites as the foundation for your online business. Similarly, if your home resides on a poor foundation, it's expected that walls and roof will equally suffer on performance and longevity. In essence, would you buy a home without having a house inspection?
The common mindset when buying a home is to have a professional house inspector check the home from top to bottom. Buyers do this to discover ahead of time what may or may not be wrong with the house before making the purchase. Therefore, without proper diligence, buyers could be walking into a nightmare fixer-upper without knowing it, meaning the price they originally bought into was far from reality.
Template websites are of a similar approach; at first glance, they seem affordable and complete, which appeals to all new business owners. However, get an experienced web developer to look under the hood of a template, and you might be surprised at how much work is involved in getting it set up and customized.
Don't get caught with your pants down!
Before choosing between a website template or custom website for your online business, it's important you do your research and look at all the things you'll encounter throughout your journey that website templates won't tell you.
The main differences between website templates and custom websites
Website templates are very popular and growing trend. We as web developers, use them all the time when engaging new customer projects. That's right; we also use them; however, our focus isn't around are they good or bad. The focus is rather around, making sure you pick the right website template and have the resources and team your business needs to make it work.
On a high level, website templates offer business owners the opportunity to use a website that is already programmed with zeros and ones. Whereas, custom websites are built from scratch, and your only limitation is your imagination.
When considering a website template, it's important you consider the future of the business – one, two and three years from now. Your business strategy might require additional features and functionalities that a website template can't offer.
Steps involved in getting website templates online.
You've completed your research, you've found the template you wanted, it's now time to bring your new website online. So, what's next? Here's a list of items to consider in bringing your project to reality.
First, what's the cost of the template?
Was the website template free, or what is it purchased? Not all website templates are made the same, and some are updated while others don't offer any update support. It's best not to rush the selection of your template and offer your developer ample time to select a good template that will meet your business needs.
Second, who will host the website template?
Be wary of free hosting packages as these will often offer very poor website performance and security.
Third, who is responsible for the planning and project management?
Who will be styling the website, creating menus and adding new website pages? Typical website templates only offer the main home page, and additional pages must be styled and configured by the business owner. On average, business owners can expect at 40-60 hours of customization before bringing a new website template online. That said, more complex websites could take much longer, and that's also assuming your web developer knows what he's doing.
A good template should allow for high levels of customization within the template, and the goal is to make your website look unique and not identical to everyone else's.
Forth, getting your CMS setup.
The installation of a CMS such as WordPress takes time, especially when using proper hosting servers and emphasizing site security.
Fifth, creating and implementing content for website templates.
The website is hosted, the template installed, and the CMS configured. It's now time to start adding content to your pages. The uploading and maintenance of your website is the most time-consuming aspect of owning a website. Not only does it require significant time investment upfront but also requires a continued engagement daily, weekly and monthly.
Sixth, training and becoming self-sufficient on more basic tasks.
It's great to have a team, and some web development companies will stay involved in all aspects of the business. However, set up your new website template in a way to allow the business owners to make some of the more common changes like changing a picture, adding a new blog post and changing some text.
Why custom websites typically cost more than website templates?
Like a book, a website template and custom website can often look the same when reading the cover. However, when you open the book and read through its content, the difference is often very obvious to any web developer.
Additionally, custom websites can offer some major SEO boosts to any website owner. Think of it this way: a website template is built for the masses with a lot of code that may never apply to your business, this code can easily affect your site performance which can result in the lower ranking with Google. For more advantages of custom websites, have a look at this article by GoodManCreatives.
In essence, the coding structure, features and capabilities of a custom website are often much cleaner and more advanced while removing many potential weaknesses that website templates offer. However, custom websites do naturally take more time, and therefore are more expensive.
The cost associated with updating and refreshing website templates
In theory, it might seem like doing a quick website refresh, or an update that should be inexpensive. In some cases, this is true. However, it depends on what you're trying to do.
The best advice is to plan, plan and plan.
Above all, building a website without knowing the direction of your business is a recipe for failure. It's important you take the time of understanding your requirements today and those of tomorrow. In other words, if you haven't put together a proper detailed strategy, I'd suggest looking at this article before starting an online business called, "6 Things to consider before spending money on a new business idea."
The best way to avoid unnecessary cost when building your website is to be transparent with your web development team. It's the job of your web development team to challenge and guide your journey.
Why your business will need to update its website
Websites are meant to be ever-changing and growing as your company grows. If your website stays stagnant, don't be surprised if your monthly traffic and customer engagement also take a hit.
There are many reasons why a business owner should consider updating their website, the most notable reasons are;
Visual appeal
Responsiveness & mobile-friendliness
Compatibility
Marketing
Effective use of call to actions
Design, images, and content
SEO and website updates
Security
Usability
A great article that speaks exclusively to the importance of updating your website can be found at Granite5.
The differences between free and premium hosting services
There are a few types of hosting options: the most common ones are free hosting with domain purchase, a premium paid hosting and custom hosting. There's no way to know what option will best suit your business without getting a better understanding of your requirements, however, in the case of taking the less expensive route, it's a situation where you get what you pay for.
In essence, paid web hosting packages usually mean you are getting a much higher quality and better service from a reputable company that provides:
Higher quality and more personalized support
A better way to do automated website or server backups
A lower downtime and higher website uptime reliability
Better website security
A tailored hosting package (better speeds and optimized for your needs)
A scalable solution that can grow with your online business
What about those cheaper website template offers?
It's like we said before, it's a matter of you get what you pay for. In many cases, customers who opt-in in doing cheap in the front end, end up paying more during the life of their website fixing and updating things later.
Cheaper website template offers, come at a price. It might look like everything you need is there, but often there's always hidden cost behind the curtain. Your goal is to understand this cost before jumping.
For example:
When looking at the Shopify partner program, you'll notice they advertise an average of $10,000 in profit when setting up a new e-commerce website by one of their development partners. That said, a simple Shopify template still needs a certain level of set up and customization for anyone looking to build a new online business.
Further, consider the following before moving forward:
The website template chosen is good and popular (a less popular theme is less likely to get any updates or fixes in future)
The website template is properly configured and won't have hundreds of hidden bugs
The website page layouts are configured properly
The website theme offers extensive backend customization
The website template offers proper security
Who owns the website domain, or intellectual property?
Is the service transferable?
Will it include or offer additional technical support after purchase?
What's the response time when issues occur (because they will, they always do)?
Are you locked into any payment plan?
Will it include regular CMS maintenance and updates?
The importance of choosing the right web developer for your next website template or custom website
Choosing the right development team can make or break your business. As web developers, we've had hundreds of calls over the years with clients saying they wasted so much money and time already doing it all wrong.
The most common mistake is to use a development team who doesn't truly understand your business. It's your responsibility as business owners to challenge the development team and emphasize the planning stage of your website before starting.
In essence, if a development team is disorganized and unresponsive in the earlier stages of your new website, be wary of how this could translate it, you're their ability to code and support.
For more information on how to choose a proper web development company, have a look at this article "8 things to consider when choosing a web development company".
To sum it all up here's what you need to do when building your new website
It's simple, don't cut corners. Take the time to properly assess your needs and requirements before choosing which route is best suited for your business.
Keep in mind, there's nothing wrong with a website template. However, it's your responsibility to review and understand what you are buying and getting before starting. At first glance, it's normal for website templates to look very appealing, but it's also in your long-term best interest to work with a web developer that understands the language and work required to bring your project to life.
A good website is worth the investment when done right, and your website is your hardest-working marketing tool. Take the time to shop around and compare your options but more importantly, consider the impact of your decision above the price.
Low price today, is often, higher price later.
At QPSdigital, we work with our client's hand-in-hand to develop websites they are proud to call their own. If you're interested in seeing how we can help you on your next website template or a custom website, then connect with us at www.qpsdigital.com or complete our FREE online questionnaire to get started.
We look forward to connecting with you,
Christian Duguay – Owner at QPSdigital
Sales Professional, Entrepreneur and Family Man