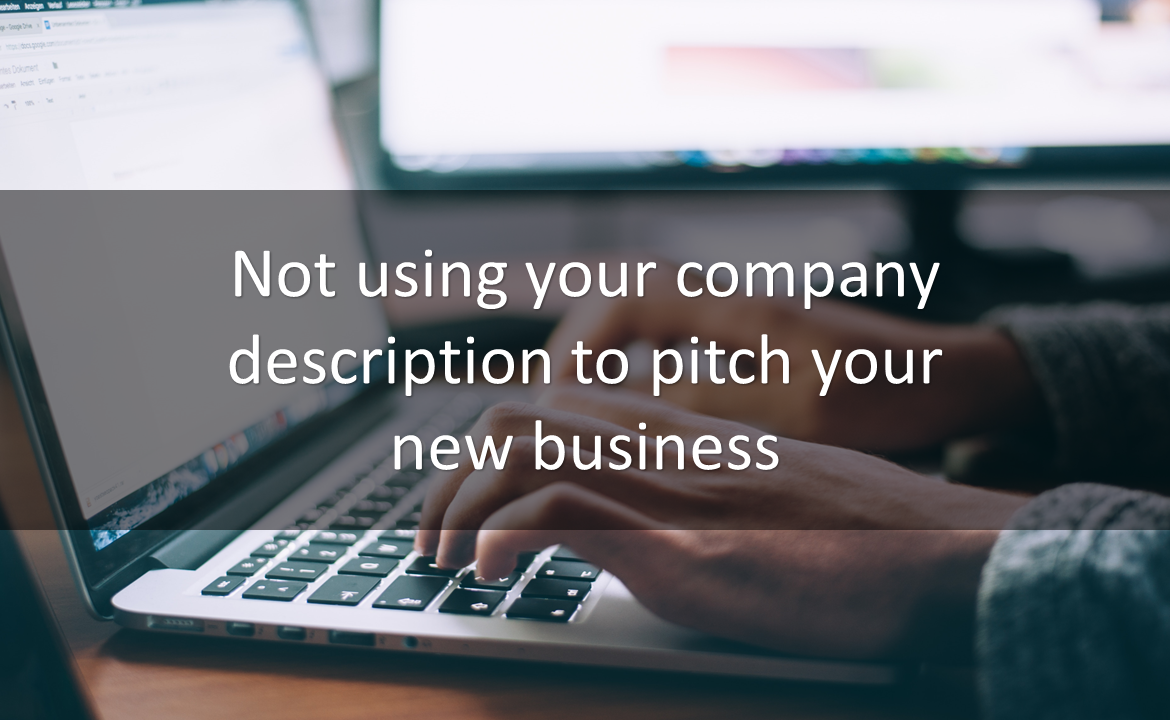 The journey for any new online business must start somewhere.
First, you've drafted your idea and received third party, non-biased customer feedback.
Second, you've drafted your business plan.
Third, you've prepared a personal financial plan to help support your living expenses for the next years while your business is in development and growth mode.
If not, try also reading, "6 Things to consider before spending money on a new business idea".
Why you shouldn't rely on your business description to pitch your new website and online business
We hear this all the time: entrepreneurs and new business owners excited about their ideas but not prepared to verbalize their ideas to customers and investors. Being able to pitch your business idea is part of the basic preparation for any new business owner. You never know when you might meet someone who could make or break your business.
Preparation is key, try to avoid using your company description to pitch your new online business idea.
Anyone looking to start a new website, startup or small business will require both a company description and elevator pitch. In essence, a company description should not be used to verbalize your business ideas to future customers or investors. You're more likely to bore your audience and have them disengage with your new online business idea.
Both of these are created and constructed differently for different purposes. On a high level, the company description is often used to help rank with Google. Let's be fair, how many people read your full company description? Whereas an elevator pitch is used to engage in a meaningful and short conversation. The goal is to transfer your excitement towards your new online business idea to prospective customer or investor.
The purpose of an elevator pitch and things to consider when writing it
The purpose of an elevator pitch is to say just enough to generate interest with your audience. The main mishap amongst entrepreneurs and new business owners is the level of internal excitement generated when someone is genuinely interested in listening to our new business ideas. That said, we allow this excitement to overtake the conversation and what should have been an elevator pitch turns into a full-blown sales pitch. In most cases, this will deteriorate and disengage those listening with your idea. You'll be sitting there wondering, what did I do wrong, wishing for a do-over.
How long does the average elevator ride take? Unless you're going up the Trump Tower, most elevator rides last no more than 45-seconds. That means, your elevator pitch should be no longer than a brief elevator ride. When an elevator pitch is done right, your audience should feel like they just watched the latest blockbuster movie and got left on a typical Hollywood cliff hanger. Reminds me of watching Lord of the Rings for – The fellowship of the ring when Frodo says "Sam, I'm glad your with me" and that's it. That scene had you begging for more!
If done right, you should have your new customers or investors in suspense, eager to know more.
The most common mistake after delivering a good elevator pitch is to turn the elevator pitch into a full-blown sales pitch. Try avoiding this. In some cases, it might be your only option. However, the goal would be to schedule a proper sit down to discuss the new business idea further. At that moment, it's hard to walk away, but walking away shows you aren't desperate and makes your customer or investor wanting more. It's common for many entrepreneurs and small business owners lose the attention of their captive audience because they tried to cram in too much information at once.
How to prepare a proper elevator pitch?
Here' are the most important elements to consider when writing your elevator pitch:
The first sentence that comes out of your mouth should focus on hooking the future customer or investor, leaving them eager to hear more.
Describe your product or service, and if your mom doesn't understand it, then it's too complicated.
Describe your targeted audience and market. In other words;

Who will be buying your products and services?

What industry are you targeting?

How large is the targeted market?

How are you going to make money?
If you have a customer proof source, it's time to use it. The goal is to create a way to show potential customers or investors that you've done your homework and others like what you have to offer. More importantly, you're trying to create the fear of losing out.
Who is behind the company? Investors don't always invest because of great ideas but invest because of great people. It's common for prospective investors and customers to take a risk on a new online business if they believe they have what it takes to make it.
Who is your competition?
What strong and different competitive advantages does your new business idea have? Avoid sounding like everyone else. It's time to show why you are different.
Now that you've pitched your new business idea, what's next?
Like any good sales person would tell you, you'll need a close-close-close. It's time to for an actionable request, something you want or need help with that your audience can offer.
Is your goal to get their business card, to schedule another meeting, or to ask for a referral?
It's important to mention; the close can look different for different types of audiences. Try to have a few different ways to request help and don't pitch your idea without knowing what you want from them first. Experienced sales professionals always seed, and direct customers in their journey by being selective and carefully calculated. It's your job to close the elevator pitch with an actionable result to help grow your new online business or startup.
Lastly, the most important thing to remember when delivering an elevator pitch is your tone, posture and level of confidence towards what you're selling. It's your job to practice and be excited to share your new online business ideas. If prospective customers or investors don't feel this excitement in your delivery, it's unlikely they'll engage in further discussion.
Below are three great additional resources you can use to write your elevator pitch:
How to Write an Elevator Speech – Business Know How
Elevator Pitch Examples from Successful Startups – Slide Bean
7 Steps for Writing a Powerful Elevator Pitch – The Balance Small Business
How to prepare a proper new online business description
To start, let's review the main purpose of your business description and how and why to use it. In short, when building a new website, the main purpose is to showcase who you are, what you do, and how people can engage. There are two elements to consider: text and visuals created for your prospective customers, and those created for Google.
That's right! It's a catch 22.
If you don't build and write your business description with Google in mind, it could hurt your chances of coming up on Google searches. The intent is to make Google feel like what you are selling is relevant to the type of searches being done by customers on the Google Search Engine.
The most common four new website and online business descriptions required
That's right, not one but four or more types of different descriptions are required. The first is your typical company description, the second is your social description, the third is your directory listing description, and the fourth is your meta description. All these descriptions serve a different purpose for promoting and describing your website across different mediums.
First, your new website and online business company description
The main purpose of your online company description is to offer a compelling and interactive about us page, including a company description that not only potential customers enjoy, but Google finds relevant. For example, if your description speaks to plumbing, but you're a carpenter, this will confuse customers and most likely result in poor Google ranking.
Don't copy and paste your description from your business plan, but, rather, tailor your business plan description for your website. Keep in mind, customers reading your website description are different than those who would likely read your business plan. Try to cater your message to the appropriate audience.
Here's a great article titled 'How to Write a Killer "About Us" Page' that can help you focus on the essentials.
Lastly, it's important that your company description is used only once on your website and not reused on any other platforms. The idea here is to avoid duplicate content on the web when Google crawls your website. In essence, if Google deems that its duplicate content, it can penalize your SEO ranking having you lose customers instead of gaining them. Still unsure? Have a look at a well-written article by a reputable SEO company called Moz.
This also means that your description needs to be original content, don't try and take the high road by copying someone's else description. Attempting duplicate descriptions has higher chances of hurting your ability to grow with Google.
Second, your new website and online business social description
Similar to an online company description, your social description is built to engage your social networks. As recommended before, this description should be customized and unique to avoid duplicate content.
Third, your new website and online business directory description
Similar to an online company description, your new business directory description is for sites like Yelp, Manta, Yellowpages and other local business directories. This description is built to showcase your business products and services without duplicating the same description found on your new website.
Fourth, your new website and online business meta description
A meta description is a meta tag that will help describe the content of your web page for search engines. Note, this doesn't affect your ranking but will entice customers to click through to your page when using search engines. Keep in mind; the meta description should be no more than 155-160 characters.
Learn more about meta descriptions by review this article on Shopify.
Pick a team that has experience in helping startups, entrepreneurs and new business owners grow and succeed
To conclude, there are different types of company descriptions, and these should never be used to pitch your business. It's important all your descriptions are unique and tailored for different mediums. More importantly, don't duplicate your content since this could hurt your chances to rank with Google.
It's now time to start building and bringing your new business ideas to life.
If you are looking for an experienced team that not only understands web programming but also understands the journey for any new entrepreneur or online business owners, then connect with us for your free consultation at http://www.qpsdigital.com. It will be our pleasure to guide you through your new website and online business journey.
Visit our free online questionnaire to get started. The questionnaire helps with identifying the basic elements to consider for any digital project.
Best of luck on your journey!
Christian Duguay
Sales Professional, Entrepreneur and Family Man